Copyright Wrentham Parish Council


Wrentham is a village of approximately 1000 persons nestled around a junction on the A12 London/Ipswich/Lowestoft/Gt. Yarmouth trunk road. The junction has roads to Southwold, Beccles and a very interesting church at Covehithe. Wrentham is steeped in history stretching back to Saxon times and is mentioned in the Doomsday book. It is a mixture of old and new with some small new housing estates strategically placed so as not to detract from the overall impression of a very attractive village. Click here for more information. Wrentham has some very pleasant buildings and has won the 'Best Kept Village' competition several times in the past. In 2004 Wrentham won the competition for the 10th time and a tree was planted to commemorate this. In 2008 the Village won the Waveney District Area Section again and received a cheque for £200 from Waveney District Council which has been spent on providing a new Notice Board at the Village Hall, also a Cheque was presented for £250 by Beach Radio, Lowestoft as part of their 'Help an East Coast Child' campaign. This was spent on two five a side football goal posts. These have been erected on the football pitch in London Road for use by the younger generation of our Village.
With a core of old Wrentham families plus many new residents it still has a real sense of community.
Wrentham, Suffolk enjoys connections with Wrentham Massachusetts.
The village is well sited for holiday makers wishing to visit the surrounding area, which includes Southwold (www.southwold.info): a quaint old Suffolk seaside resort untouched by time, Beccles (www.beccles.info) a pretty market town, which has excellent boating facilities on the River Waveney, Lowestoft: England's most Easterly point, Covehithe and Oulton Broad, which is also good for boating. Oulton Broad is the most Southerly of the 'Norfolk' Broads, being in Suffolk! It connects to the other Broads and holiday cruisers can be seen here and at Beccles. There is also power boat racing here on Thursday evenings in the summer. Covehithe is a hamlet 2 - 3 miles from Wrentham and boasts a magnificant church, a good proportion of which is a ruin.
Wrentham has good sports and recreational facilities and a prize winning Brass Band. (website: www.wrenthamband.org)


EMERGENCY CONTACTS
Power Failure 105
British Gas 0800 111 999
Anglian Water 0800 771 881 (for reporting leaks)
Essex & Suffolk Water 0800 526 337 (24 hr service)
or 0800 393 084 (for reporting leaks)
Waveney District Council Customer Services 01502 562111
Suffolk County Council Customer Services 0345 606 6067
Badger Building (Meadowlands Development) Rob Lockhart (Contracts Director): 01502 583026
Email: rob@badgerbuilding.co.uk
PARISH INFORMATION
________________________
PARISH COUNCIL
For Parish Council information go to
___________________________________________________
WRENTHAM CHAPEL
(click HERE for information)
Services at the Chapel (U.R.C.) are normally held on the first and fourth Sundays of each month at 3.00 pm. All welcome.
____________________________________
WRENTHAM & COVEHITHE PARISH CHARITY
This charity offers financial aid to anyone
living in Wrentham and Covehithe or closely
associated with the parishes, who has a
money problem that they, their family
friends or social security can't help with.
There are 6 trustees beyond which
everything is confidential.
If you require help please ring
Nigel Drane 01502675623
Mike Day 01502675262
David Fletcher 01502675566
____________________________________________________
***PLAY FACILITIES IN WRENTHAM***
In a continuing effort to serve the community we are seeking the views of residents on the play facilities in Wrentham – there is an online survey which we would ask you to complete – this can be found at https://www.surveymonkey.co.uk/r/89LY3QH.
Should you require a hard copy of the survey please contact the Parish Clerk -
email: frances.bullard@live.co.uk
or phone: 07543555753
Many thanks for your continued support – Wrentham Parish Council
____________________________________________________
THE NEW LOCAL PLAN
The NEW LOCAL PLAN can be viewed at www.waveney.gov.uk/newlocalplan
___________________________________________________________
Garden Waste Collection Scheme
For details visit: www.waveney.gov.uk/gardenwaste
_____________________________________
THE OUTREACH POST OFFICE
The Outreach P.O. is open in Wrentham Stores on:
Tuesdays 10.00 am - 2.00 pm
Wednesdays 9.00 am - 12.00 noon
Thursdays 10.00 am - 2.00 pm
Wrentham Parish Council strongly urges your use of this important village service. It's future will depend on market viability so it's very much a "Use it or Lose it" situation
_________________________________________________
COMMUNITY SPEED WATCH
If you would be interested in Coordinating or volunteering please contact the Parish Clerk on 07543555753
_________________________________________________
For Travel Information
(Bus Timetables, Bus Passes, Park & Ride,
Tickets & Fares etc)
go to www.Suffolkonboard.com
________________________________________________
Discover your mobile library
Did you know that the Suffolk Libraries mobile library visits your area regularly, giving access to hundreds of thousands of books, including large print, audiobooks and children's books? You can also hire CDs and DVDs for a small charge. If the items you want are not on the van you can reserve them from the library catalogue free of charge and have them delivered on the van at a later date. The staff are very friendly and helpful, and will offer a warm welcome to anyone who visits. The steps convert into a lift for those with limited mobility. This is a valuable service to rural and isolated communities who have lost many of their other local services, and can also be an opportunity to meet up with other people and catch up with the local goings on. Come along to visit us and help to keep this service running for YOUR community – all are welcome! To find out where your nearest mobile library stop is ring Suffolk Libraries Customer Service Helpline on 01473 263838,
email: help@suffolklibraries.co.uk
For local times see:
Website: /www.suffolklibraries.co.uk/mobiles-home


EVENTS / MEETINGS
________________________________
LADYBIRDS 🐞
meet at the Village Hall every 4th Tuesday of the month
2020
Time Table coming soon
__________________________
_________________________
_________________________
TIME 4 TEA
POSTPONED UNTIL FURTHER NOTICE
(Due to the Coronavirus)
When it returns it is:-
An open invitation to local people to come to
the Village Hall,
have a chat, a cup of tea/coffee & cake or biscuits,
meet up with friends and make new friends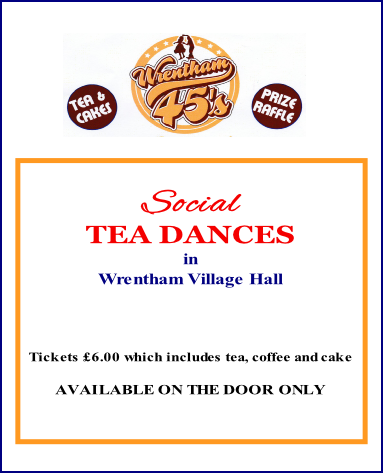 WRENTHAM VILLAGE HALL IS NOW CLOSED UNTIL FURTHER NOTICE .... Our monthly FILM SHOWS & WEEKLY 'Time4Tea' will not now take place until further notice due to the expected impact of the Coronavirus
CRIME PREVENTION
Please find below the latest newsletter and some crime prevention
posters / advice in relation to theft of power tools
- supplied by Suffolk Constabulary.
(Click on picture to see poster)




WRENTHAM SPORTS FACILITIES
Why not join
Wrentham Bowls Club or Wrentham Tennis Club
click here for
Information
Every
Monday
Morning
10.30 - 12 noon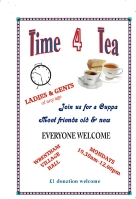 Click on poster to enlarge
ANTIQUES & COLLECTORS FAIR
in Wrentham Village Hall
on
Sunday 19th January 2020
Sunday 8th March 2020
Sunday 10th May 2020
Sunday 6th September2020
Sunday 8th November 2020
The stalls are varied and include Coins, Badges, Toys, Postcards, Maps, Books, Jewellery, Glass & Pottery, Small Furniture, Stamps, Cigarette Cards, Silver & Gold, Ephemera, Memorabilia, Vintage & Haberdashery, Paintings, Engravings And Curios we even include Military!
An event such as this would not be possible without some superb catering and so we are pleased to say that we are able to offer great hot & cold refreshments and home-made cakes to keep you going throughout the day.
What a superb day it turns out to be when even the ADMISSION is FREE.
8.30 am until 3.30 pm
Wrentham Village Hall, London Road,
Wrentham, Beccles NR34 7HJ
Every Wednesday Starting 26th
September
11.30am - 1pm
Call to book on FREE now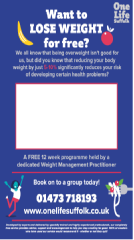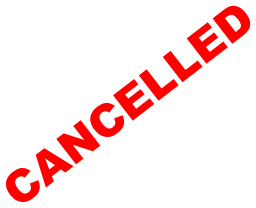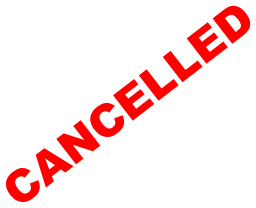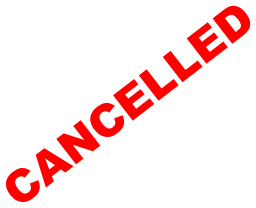 WRENTHAM VILLAGE HALL
London Road, NR34 7HJ
Currently closed because of the Coronavirus restrictions
To book Wrentham Village Hall or to obtain a key
for a booking please contact:
Angela Day - Tel: 01502 675262
or email: angeladaydream@outlook.com
For information on 'What's On' in the Village Hall
The redecoration of the main hall in preparation for the installation of acoustic tiles has just been completed.
(See news)
WRENTHAM VILLAGE HALL CINEMA
hosts evenings of
FILMS & Refreshments
on the last Saturday of each month
at 7.00pm for 7.30pm
Tickets £5.00 AT THE DOOR
FILMS:
In view of the expected impact of the CoVid19 - "coronavirus" - outbreak our monthly shows will not now take place until further notice. Please check on this website for updates or send an email to this address (whatson@wvhc.org.uk).
or, look out for our posters!
When we resume we expect to continue with our mid-year programme - "Judy", "Rocketman", "Knives Out" and "1917".
Judy (cert 12a)
Rocketman (cert 15)
Knives Out (cert 12a)
1917 (cert 15)
For information on facilities for showing films click here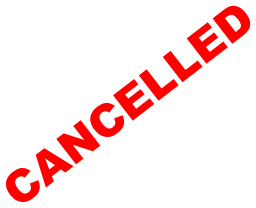 COVID-19 – WRENTHAM
In this unprecedented time the villagers of Wrentham
want to help.
Please let us know if you need help – e.g. shopping,
prescription collection, dog walking
Please also let us know if you can help with any of
the above.
Our co-ordinators at present are:
Keith Perry – kjperry2001@aol.com
Tel: 01502 675 656
Kevin Cross – ssorcnivek@gmail.com
Tel: 07825 700 877
Frances Bullard – frances.bullard@live.co.uk
Tel: 07543 555 753
If you are willing to be a co-ordinator – please also let
us know.
From Wrentham Parish Council
WRENTHAM BENEFICE –
SERVICES IN SEPTEMBER 2020:
(Zoom services are continuing, however some services are now in Frostenden, Henstead and Wrentham churches as the government has given permission for the churches to be open - please see below)
Sunday 6th (13th after Trinity) Proper 18 Green
ZOOM 9.30am Matins (bcp) Rev'd John Loftus
WRENTHAM 11.00am Holy Communion (cw) Rev'd Stephen Abbott
HENSTEAD 6.00pm Evensong (bcp) Rev'd Paul Nelson
Readings: Ezekiel 33.7-11, Psalm 119.33-40, Romans 13.8-end, Matthew 18.15-20
Sunday 13th (14th after Trinity) Proper 19 Green
WRENTHAM 11.00am Morning Prayer(cw) Rev'd Stephen Abbott
HENSTEAD 6.00pm Evensong (bcp) Rev'd Paul Nelson
Readings: Genesis 50.15-21, Psalm 103.1-13, Romans 14.1-12, Matthew 18.21-35
Sunday 20th (15th after Trinity) Proper 20 Green
ZOOM 9.30am Matins (bcp) Rev'd John Loftus
WRENTHAM 11.00am Morning Prayer(cw) Rev'd John Loftus
HENSTEAD 6.00pm Holy Communion (cw) Rev'd John Loftus
Readings: Jonah 3.10—end of 4, Psalm 145.1-8, Philippians 1.21-end, Matthew 20.1-16
Sunday 27th (16th after Trinity) Proper 21 Green
FROSTENDEN 11.00am HC (bcp) Rev'd John Loftus
WRENTHAM 11.00am Morning Prayer(cw) Rev'd Barrie Slater
HENSTEAD 6.00pm HARVEST FESTIVAL Rev'd John Loftus
Readings: Ezekiel 18.1-4, 25-end, Psalm 25.1-8, Philippians 2.1-13, Matthew 21.23-32
If you would like to participate in any of the Zoom services please contact the Rev'd John Loftus by E-mail at marwood52@btinternet.com so that you can be sent a link to join our Zoom services.
WRENTHAM STORES
Is now open: Monday to Friday: 7.00am - 6.00pm
Saturday: 7.00 am - 2.00pm

FIRST RESPONDERS
First responders are members of the community who have been trained to attend emergencies (heart attacks etc.).
They are contacted by the emergency services and can usually get to an emergency before the paramedics. Because they are on the spot, they are able to start the crucial recovery process within a very short time.
Coordinator: Mrs Pat Seaman
To donate towards the new defibrillator contact Angela Day -
9 Priory Road, Wrentham, Beccles, Suffolk.NR34 7LR
Tel: 01502 675262
Email: angeladaydream@outlook.com