Copyright Wrentham Parish Council




Wrentham is a village of approximately 1000 persons nestled around a junction on the A12 London/Ipswich/Lowestoft/Gt. Yarmouth trunk road. The junction has roads to Southwold, Beccles and Covehithe. Wrentham is steeped in history stretching back to Saxon times and is mentioned in the Doomsday book. It is a mixture of old and new with some small new housing estates strategically placed so as not to detract from the overall impression of a very attractive village. Click here for more information. Wrentham has some very pleasant buildings and has won the 'Best Kept Village' competition several times in the past. In 2004 Wrentham won the competition for the 10th time and a tree was planted to commemorate this. In 2008 the Village won the Waveney District Area Section again and received a cheque for £200 from Waveney District Council which has been spent on providing a new Notice Board at the Village Hall, also a Cheque was presented for £250 by Beach Radio, Lowestoft as part of their 'Help an East Coast Child' campaign. This was spent on two five a side football goal posts. These have been erected on the football pitch in London Road for use by the younger generation of our Village.
With a core of old Wrentham families plus many new residents it still has a real sense of community.
Wrentham, Suffolk enjoys connections with Wrentham Massachusetts.
The village is well sited for holiday makers wishing to visit the surrounding area, which includes Southwold (www.southwold.info): a quaint old Suffolk seaside resort untouched by time, Beccles (www.beccles.info) a pretty market town, which has excellent boating facilities on the River Waveney, Lowestoft: England's most Easterly point, Covehithe and Oulton Broad, which is also good for boating. Oulton Broad is the most Southerly of the 'Norfolk' Broads, being in Suffolk! It connects to the other Broads and holiday cruisers can be seen here and at Beccles. There is also power boat racing here on Thursday evenings in the summer. Covehithe is a hamlet 2 - 3 miles from Wrentham and boasts a magnificant church, a good proportion of which is a ruin.
Wrentham has good sports and recreational facilities and a prize winning Brass Band. (website: www.wrenthamband.org)

FIRST RESPONDERS
First responders are members of the community who have been trained to attend emergencies (heart attacks etc.).
They are contacted by the emergency services and can usually get to an emergency before the paramedics. Because they are on the spot, they are able to start the crucial recovery process within a very short time.
Coordinator: Mrs Pat Seaman
To donate towards the new defibrillator contact Angela Day -
9 Priory Road, Wrentham, Beccles, Suffolk.NR34 7LR
Tel: 01502 675262
Email: angeladaydream@outlook.com


EMERGENCY CONTACTS
Power Failure 105 (from 6.9.16)
British Gas 0800 111 999
Anglian Water 0800 771 881 (for reporting leaks)
Essex & Suffolk Water 0800 526 337 (24 hr service)
or 0800 393 084 (for reporting leaks)
Waveney District Council Customer Services 01502 562111
Suffolk County Council Customer Services 0345 606 6067
Badger Building (Meadowlands Development) Rob Lockhart (Contracts Director): 01502 583026
Email: rob@badgerbuilding.co.uk
PARISH INFORMATION
________________________
PARISH COUNCIL
The next Parish Council Meeting is on
Monday 21st May at 7.30 pm and is the AGM
___________________________________________________
HELP NEEDED!!
Wrentham Parish Council are looking for a local handyman who would be willing to undertake small jobs around the village.
If this is you, or you know anyone who could help, please contact: The Clerk - Frances Bullard:
email: frances.bullard@live.co.uk
or Telephone: 07543555753
___________________________________
WRENTHAM & COVEHITHE PARISH CHARITY
This charity offers financial aid to anyone
living in Wrentham and Covehithe or closely
associated with the parishes, who has a
money problem that they, their family
friends or social security can't help with.
There are 6 trustees beyond which
everything is confidential.
If you require help please ring
Nigel Drane 01502675623
Mike Day 01502675262
David Fletcher 01502675566
____________________________________________________
***PLAY FACILITIES IN WRENTHAM***
In a continuing effort to serve the community we are seeking the views of residents on the play facilities in Wrentham – there is an online survey which we would ask you to complete – this can be found at https://www.surveymonkey.co.uk/r/89LY3QH.
Should you require a hard copy of the survey please contact the Parish Clerk -
email: frances.bullard@live.co.uk
or phone: 07543555753
Many thanks for your continued support – Wrentham Parish Council
____________________________________________________
THE NEW LOCAL PLAN
The NEW LOCAL PLAN can be viewed at www.waveney.gov.uk/newlocalplan
___________________________________________________________
WRENTHAM COMMUNITY FORUM
www.facebook.com/Wrentham/?fref=photo
____________________________________
THE GARDEN WASTE COLLECTION SCHEME
It is time to renew your annual charge
For full details visit: www.waveney.gov.uk/gardenwaste
_____________________________________
St. NICHOLAS CHURCH (Click HERE for information.)
Services for May:
Sun 6th 11.00 am HC (Rev'd. Peter Trendall)
Sun 13th 11.00 am MP (Rev'd. Barie Slater)
Sun 20h 11.00 am Family Communion (Rev'd. Barrie Slater)
Sun 27th 11.00 am MP (Rev'd Barrie Slater)
WRENTHAM CHAPEL (click HERE for information)
Services at the Chapel (U.R.C.) are normally held on the first and fourth Sundays of each month at 3.00 pm. All welcome.
____________________________________
THE OUTREACH POST OFFICE
The Outreach P.O. is open in Wrentham Stores on:
Tuesday, Wednesday, Thursday, Friday
10.00 am - 2.00 pm
Wrentham Parish Council strongly urges your use of this important village service. It's future will depend on market viability so it's very much a "Use it or Lose it" situation
_________________________________________________
COMMUNITY SPEED WATCH
If you would be interested in Coordinating or volunteering please contact the Parish Clerk on 07543555753
_________________________________________________
For Travel Information
(Bus Timetables, Bus Passes, Park & Ride,
Tickets & Fares etc)
go to www.Suffolkonboard.com
________________________________________________

EVENTS / MEETINGS
__________________________________
Charity Vintage day
on
Sunday 3rd June 2018
Vintage Stall: 10.00am - 1.00pm
Social Tea Dance: 2.00 pm - 5.30 pm
Classic Cars & Vehicles
All Day Barbecue
DJ' Include:
TEXAS TOMMY, VINTAGE ROB
& 3 BITS OF RHYTHM
If you require a stall pleas contact
Richard on 07557 303114 or Wrentham 45's
Face Book page
Some all day pitches available
Tickets £5 which includes tea, coffee & cake
_________________________
'Celebration in Creativity
Weekend'
A popular Exhibition of Local Art & Crafts
in
St. Nicholas Church
Preview Evening Friday 22nd. July
with Church Open on
Saturday 23rd & 24th July
Further details from
Alison Tel: 01502 675610
_________________________
An 'ANTIQUE & COLLECTOR'S FAIR'
will be held
in
Wrentham Village Hall
on
Sunday 8th July, 2018
& on
Sunday 23rd Sept, 2018
Free Admission
Vintage Cafe
8.30 am - 3.30 pm
Stall Enquiries: 07919 022352
_____________________________________________
TIME 4 TEA
An open invitation to local people to come to
the Village Hall,
have a chat, a cup of tea/coffee & cake or biscuits,
meet up with friends and make new friends
WRENTHAM VILLAGE HALL
To book Wrentham Village Hall or to obtain a key
for a booking please contact:
Angela Day - Tel: 01502 675262
or email: angeladaydream@outlook.com
For information on 'What's On' in the Village Hall
________________________________________
hosts evenings of
FILMS & Refreshments
on the last Saturday of each month
this includes a glass of wine, beer, lager or tea/coffee
(for a donation of £4.50)
at 7.00pm for 7.30pm
Films:
April 28th - The Kite Runner
May 26th - Swallows and Amazons
June 30th - Darkest Hour
July 28th - The Greatest Showman
See: 'Commissionaires'
For information on facilities for showing films click here
CRIME PREVENTION
Please find below the latest newsletter and some crime prevention
posters / advice in relation to theft of power tools
- supplied by Suffolk Constabulary.
(Click on picture to see poster)




PRESS RELEASE
(Monday 19 February 2018)


Fire fighters get on their bikes for charity
Six fire fighters from Wrentham Fire Station near Southwold in Suffolk will be embarking on a five day charity cycle ride later this year, travelling almost 400 miles across the country.
Beginning on Monday 18 June, fire fighters Aaron English, Steve Howard, Richard Lark, Shane Sillett, James Supple and Richard Supple will cycle from Llangefni in Wales and arrive at South Lowestoft Fire Station on Friday 22 June.
Named the 'Wrentham Fire Ride', the Wrentham crew will cycle 381 miles from the west of the country to the UK's most easterly town of Lowestoft in order to raise money and awareness for two important charities; The Fire Fighters Charity and Mind.
James Supple, Crew Commander at Wrentham Station said: "We are incredibly grateful for the support of Suffolk Fire and Rescue Service, other fire stations across the UK who will be providing assistance and to our sponsors without whom the ride would not be possible. We hope to raise £2,000 for our charities and we are extremely grateful to anyone who is able to donate even a small amount."
On the final day of the challenge, Friday 22 June, the crew will visit the Suffolk County Council offices at Endeavour House in Ipswich to meet Suffolk Fire and Rescue Service colleagues, before cycling the remaining distance to Lowestoft.
The Wrentham Fire Ride is sponsored by Pedal Power, Morrisons Beccles, Kingsley Healthcare, Southwold Golf Club and Greater Gabbard Offshore Winds Ltd. Any organisations wishing to offer support to the challenge are asked to contact hello@wrenthamfireride.com.
To donate to the Fire Ride, or to find out more, please visit
Discover your mobile library
Did you know that the Suffolk Libraries mobile library visits your area regularly, giving access to hundreds of thousands of books, including large print, audiobooks and children's books? You can also hire CDs and DVDs for a small charge. If the items you want are not on the van you can reserve them from the library catalogue free of charge and have them delivered on the van at a later date. The staff are very friendly and helpful, and will offer a warm welcome to anyone who visits. The steps convert into a lift for those with limited mobility. This is a valuable service to rural and isolated communities who have lost many of their other local services, and can also be an opportunity to meet up with other people and catch up with the local goings on. Come along to visit us and help to keep this service running for YOUR community – all are welcome! To find out where your nearest mobile library stop is ring Suffolk Libraries Customer Service Helpline on 01473 263838,
email: help@suffolklibraries.co.uk
For local times see:
Website: /www.suffolklibraries.co.uk/mobiles-home


AROUND & ABOUT
There will be a
Historical Exhibition
on
'Benacre & Covehithe'
in
Benacre Church
27th - 29th July
Very few of the items that will be on display have been on show before, so why not take the opportunity to go along and visit this rarely opened church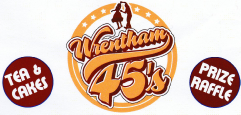 Every
Monday
Morning
10.30 - 12 noon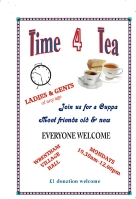 Click on poster
to enlarge