Copyright Wrentham Parish Council


Wrentham is a village of approximately 1000 persons nestled around a junction on the A12 London/Ipswich/Lowestoft/Gt. Yarmouth trunk road. The junction has roads to Southwold, Beccles and a very interesting church at Covehithe. Wrentham is steeped in history stretching back to Saxon times and is mentioned in the Doomsday book. It is a mixture of old and new with some small new housing estates strategically placed so as not to detract from the overall impression of a very attractive village. Click here for more information. Wrentham has some very pleasant buildings and has won the 'Best Kept Village' competition several times in the past. In 2004 Wrentham won the competition for the 10th time and a tree was planted to commemorate this. In 2008 the Village won the Waveney District Area Section again and received a cheque for £200 from Waveney District Council which has been spent on providing a new Notice Board at the Village Hall, also a Cheque was presented for £250 by Beach Radio, Lowestoft as part of their 'Help an East Coast Child' campaign. This was spent on two five a side football goal posts. These have been erected on the football pitch in London Road for use by the younger generation of our Village.
With a core of old Wrentham families plus many new residents it still has a real sense of community.
Wrentham, Suffolk enjoys connections with Wrentham Massachusetts.
The village is well sited for holiday makers wishing to visit the surrounding area, which includes Southwold (www.southwold.info): a quaint old Suffolk seaside resort untouched by time, Beccles (www.beccles.info) a pretty market town, which has excellent boating facilities on the River Waveney, Lowestoft: England's most Easterly point, Covehithe and Oulton Broad, which is also good for boating. Oulton Broad is the most Southerly of the 'Norfolk' Broads, being in Suffolk! It connects to the other Broads and holiday cruisers can be seen here and at Beccles. There is also power boat racing here on Thursday evenings in the summer. Covehithe is a hamlet 2 - 3 miles from Wrentham and boasts a magnificant church, a good proportion of which is a ruin.
Wrentham has good sports and recreational facilities and a prize winning Brass Band. (website: www.wrenthamband.org)

PARISH INFORMATION
________________________
PARISH COUNCIL
For Parish Council information go to
___________________________________________________
WRENTHAM CHAPEL
(click HERE for information)
Services at the Chapel (U.R.C.) are normally held on the first and fourth Sundays of each month at 3.00 pm. All welcome.
National Drive-it day at Wrentham Chapel
Sunday 24th April is National Drive-it Day when historic vehicles take to the road in a trial run before the season of shows and events.
Those doing so are warmly invited to make a Pit-Stop at Wrentham Chapel where complimentary drinks and biscuits will be available between 10am and 5pm. There will be a short, transport themed, act of worship at 3pm to which you are all welcome.
____________________________________
***PLAY FACILITIES IN WRENTHAM***
In a continuing effort to serve the community we are seeking the views of residents on the play facilities in Wrentham – there is an online survey which we would ask you to complete – this can be found at https://www.surveymonkey.co.uk/r/89LY3QH.
Should you require a hard copy of the survey please contact the Parish Clerk -
email: frances.bullard@live.co.uk
or phone: 07543555753
Many thanks for your continued support – Wrentham Parish Council
____________________________________________________
THE NEW LOCAL PLAN
The NEW LOCAL PLAN can be viewed at www.waveney.gov.uk/newlocalplan
___________________________________________________________
Garden Waste Collection Scheme
www.eastsuffolk.gov.uk/waste/waste-collection-and-disposal/garden-waste/
_____________________________________
THE OUTREACH POST OFFICE
The Outreach P.O. is open in Wrentham Stores on:
Tuesdays 10.00 am - 2.00 pm
Wednesdays 9.00 am - 12.00 noon
Thursdays 10.00 am - 2.00 pm
Wrentham Parish Council strongly urges your use of this important village service. It's future will depend on market viability so it's very much a "Use it or Lose it" situation
_________________________________________________
COMMUNITY SPEED WATCH
If you would be interested in Coordinating or volunteering please contact the Parish Clerk on 07543555753
_________________________________________________
For Travel Information
(Bus Timetables, Bus Passes, Park & Ride,
Tickets & Fares etc)
go to www.Suffolkonboard.com
________________________________________________
Discover your mobile library
Did you know that the Suffolk Libraries mobile library visits your area regularly, giving access to hundreds of thousands of books, including large print, audiobooks and children's books? You can also hire CDs and DVDs for a small charge. If the items you want are not on the van you can reserve them from the library catalogue free of charge and have them delivered on the van at a later date. The staff are very friendly and helpful, and will offer a warm welcome to anyone who visits. The steps convert into a lift for those with limited mobility. This is a valuable service to rural and isolated communities who have lost many of their other local services, and can also be an opportunity to meet up with other people and catch up with the local goings on. Come along to visit us and help to keep this service running for YOUR community – all are welcome! To find out where your nearest mobile library stop is ring Suffolk Libraries Customer Service Helpline on 01473 263838,
email: help@suffolklibraries.co.uk
For local times see:
Website: /www.suffolklibraries.co.uk/mobiles-home


The Wrentham Cinema is showing the film 'The King's Speech' starring Colin Firth, Geoffrey Rush and Helen Bonham Carter on 28th May
CRIME PREVENTION
Please find below the latest newsletter and some crime prevention
posters / advice in relation to theft of power tools
- supplied by Suffolk Constabulary.
(Click on picture to see poster)



WRENTHAM STORES
SUMMER OPENING HOURS
(May through to September)
Monday to Friday Open from 7.00am to 6.00pm daily
Saturdays Open from 7.30am closing at 4.00pm
Sundays Open from 8.00am closing at 1.00pm

FIRST RESPONDERS
First responders are members of the community who have been trained to attend emergencies (heart attacks etc.).
They are contacted by the emergency services and can usually get to an emergency before the paramedics. Because they are on the spot, they are able to start the crucial recovery process within a very short time.
Coordinator: Mrs Pat Seaman
To donate towards the new defibrillator contact Angela Day -
9 Priory Road, Wrentham, Beccles, Suffolk.NR34 7LR
Tel: 01502 675262
Email: angeladaydream@outlook.com

EMERGENCY CONTACTS
Power Failure 105
British Gas 0800 111 999
Anglian Water 0800 771 881 (for reporting leaks)
Essex & Suffolk Water 0800 526 337 (24 hr service)
or 0800 393 084 (for reporting leaks)
Waveney District Council Customer Services 01502 562111
Suffolk County Council Customer Services 0345 606 6067
Badger Building (Meadowlands Development) Rob Lockhart (Contracts Director): 01502 583026
Email: rob@badgerbuilding.co.uk
WRENTHAM VILLAGE CHARITY
This charity offers financial aid to anyone
living in Wrentham and Covehithe or closely
associated with the parishes, who has a
money problem that they, their family
friends or social security can't help with.
There are 6 trustees beyond which
everything is confidential.
If you require help please ring
Nigel Drane 01502675623
David Fletcher 01502675566
WRENTHAM SPORTS FACILITIES
Why not join
Wrentham Bowls Club, Wrentham Tennis Club or Wrentham & Mutford Football Club
click here for Information
The football club has had a very successful season
See News
WRENTHAM BENEFICE
SERVICES IN MAY
TIME 4 TEA
______________________
Time4Tea 7th ANNIVERSARY
"We wanted to celebrate the Time4Tea 7th anniversary in style even though we can't get together at the moment, so we took the party to the people!

A delicious 'picnic ' box was put together by the Cragg Sisters Tearoom in Aldeburgh and Emma was up extremely early on the day baking scones and sausage rolls to ensure they were as fresh and tasty as possible.
These were then hand delivered to 63 members of Time4Tea by Rita Perry and her team and by the look of it a good time was had by all!


We can thoroughly recommend a visit to the Cragg Sisters Tearoom in Aldeburgh High Street. Tel: 07813 552181."



Every
Monday
Morning
10.30 - 12 noon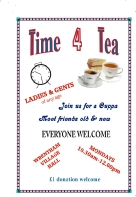 Click on poster to enlarge
NEWS and EVENTS
Royal British Legion
The Wrentham branch of The Royal British Legion now has its own website.
http://branches.britishlegion.org.uk/branches/wrentham-district
For more information contact Rosie Carter on 07710277115.
The Wrentham and District Branch of the British Legion is delighted to announce that Rosy Carter, Treasurer, has won a Legion Centenary Award. There are 5 categories to the award and Rosie has won the Excellence category. Rosie now goes forward, with the other 4 winners in Suffolk, to the Area Awards. Many congratulations to Rosie and thank you for everything you do for the Legion and all the other areas of the community you support.
"Rosie richly deserves this accolade awarded to her by the British Legion. We are so fortunate to have such a dedicated member in this Branch. She always achieves standards of 'excellence' in whatever she undertakes for the British Legion in Wrentham and area. Bennissimo, Rosie!" Alison
The Wrentham and District Branch
AnnualPoppy Appeal
raised £2,024.89 in 2021
Sincere thanks to all of the collectors, volunteers and donors.
_________________________
THE HORSE AND GROOM
Public House
Local residents, Robert and Tyler Harber have taken over the
Horse and Groom. They have carried out a total refurbishment of
the premises
To Book a meal call on 01502675279 / 07392119023
For latest information visit their Facebook page:
www.facebook.com/Horse-and-Groom-Wrentham-102837978158352
WRENTHAM VILLAGE HALL
London Road, NR34 7HJ
For information on 'What's On' in the Village Hall
The redecoration of the main hall has been completed.
(See news)
To book the Village Hall
Email Maureen on: dwrmtr@gmail.com
(See booking information )
For Parents & Pre School
________________
WRENTHAM VILLAGE HALL CINEMA
hosts evenings of
FILMS & Refreshments
on the last Saturday of each month
Tickets £5.00 AT THE DOOR
FILMS:
On 28th May: The King's Speech
starring Colin Firth, Geoffrey Rush and Helen Bonham Carter
Doors open 6.45pm Film starts at 7.30pm
On 25th June: No Time to Die
Starring Daniel craig
Doors open 6.30pm Film starts 7.00pm
_____________________
EVENTS in the VILLAGE HALL
Wrentham's BIG Jubilee Lunch
at Wrentham Village Hall
Free to everyone
SUNDAY 5th JUNE 2022
3.00pm - 6.00pm
BARBECUE - Drinks - Children's activities-
Entertainment with Wrentham Band
& an Ice Cream Van
__________________________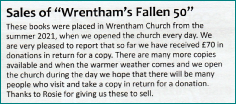 ONELIFE SUFFOLK COMMUNITY CLUBS
running healthy lifestyle programmes aimed at children and families