Copyright Wrentham Parish Council


The Chipperfield family have kindly donated a very nice bench to the village in memory of Ben Chipperfield
Benjamin was born in 1928 and died in 2008 aged 79 years just before his 80th Birthday and 50th wedding anniversary.
He was the son of Mr & Mrs Alfred Chipperfield who had a Butchers Shop in the High Street (1936 -1947) and lived in the Firs, Southwold Road from 1938.
Alfred and Benjamin Chipperfield were farmers on Benacre Estate and farmed Foxes farm in London Road, which is now part of Meadow Lands and Bonsey Gardens, and Valley Farm at Frostenden.
The new Bench opposite the Old Town Hall
Benjamin also farmed Pyes Hall Farm where he had a milking herd of cattle, with arable land growing a wide range of crops including Corn, Peas, Sugar Beet, Potatoes and Carrots, and was a founding member of the Wrentham Vegetables Ltd co-operative.
Benjamin was married to Jean and they lived in Clyfton House London Road with their two children, Dawn and Mark, and he continued farming until his retirement, when he and Jean moved to Mutford.
Benjamin had many links within our village, serving as a Parish Councillor, as a Special Constable and also having many other interests in our village life.
The seat presented to the village by the Chipperfield family will allow the Parishioners of Wrentham to remember the life of this truly Wrentham Man.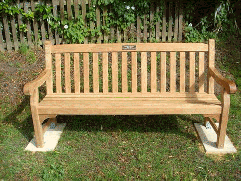 The seat sited opposite the Old Town Hall