Copyright Wrentham Parish Council


WINDMILLS ~ of Wrentham (From the book 'Threshing and Thatching' by Pat Freeman)
Soft breeze unfurling, gently whirling
Sails of windmills, Wrentham's say.
Through millstones turning, grain is churning
Making flour the old fashioned way.
Pat Freeman
Post, Smock and Tower were the three types of Windmills used for corn milling and they flourished up to the late 1890's by which time steam powered steel roller mills had captured the bulk of the flour trade. Nevertheless some windmills continued to be used, although mainly for grist milling for animal feed, until shortly after the First World War by which time a large number, particularly Post Mills, were falling into decay.
The Post Mill, as its name suggests, was built around a massive central wooden pillar, or post, which was usually made of oak. It was held in position by a very substantial wooden trestle arrangement which acted as a pivot on which the whole mill structure was hung so that it could be turned to allow its sails to face into the wind.
The trestle was generally built up on short masonry piers to keep the wood off the ground and in many cases was also completely enclosed by brickwork, giving rise to the term 'roundhouse', which besides providing protection to the trestle from the weather, also provided additional storage space for the miller.
Smock or Tower Mills largely superseded Post Mills as they were constructed so that the whole mill did not have to turn to keep the sails into the wind. Both types carried their sails in a separate cap at the top, which could be rotated through 360 degrees. Whilst early versions were turned into the wind by hand, either directly by a tiller or by internal pulley systems, most mills had a fantail attached to the cap which was wind operated and this kept the sails always facing in the right direction.
As only the cap turned, both types of mill could be made more solid and stable than a Post Mill and they had a much lower wind resistance. They could therefore be built tall enough to incorporate several storeys and made very strong so that they could house heavy machinery.
The difference between Smock and Tower Mills was mainly due to the material used in their construction. Tower Mills were built of stone or bricks in a circular configuration whereas Smock Mills were constructed of timber and to approach the circular design of the Tower Mill they therefore had to have six, eight, ten or even twelve sides. This meant that the Tower Mill was more hardwearing and could more easily be made weather and fireproof than the many-sided wooden Smock Mill.
Although the three types, Post, Smock and Tower were different in their basic construction, their methods of operation were similar in as much as their sails drove, via a system of shafts, gears and spindles, the millstones which were the heart of the milling process.
.
TOWER MILL This was built sometime between 1825 and 1837 probably by J. J. Goff who operated it until his death in 1849. In the 1851 census returns, Mary Goff, his widow, is listed as being at the Wind and Steam Mills and Malt Office and employing eight men. In 1861 J.J. Goffs estate was auctioned and included was "Lot 1, Wrentham Mills comprising a substantially built Tower Mill, having eight floors and four patent sails, driving three pairs of 4ft 6in French Stones. Also communicating with Tower Mill a Steam Milt with three floors, a 10 horse power high pressure beam engine, driving three pairs of 4ft French Stones".
It was bought by Samuel Kett for £1200 who paid £200 down and had a mortgage for the rest. It seems that the business ran into trouble and in November 1863 a fire broke out which gutted all the buildings except the Tower Mill and counting house which, unlike the steam mill, two granaries and the malt house, were made of brick. The circumstances of the fire seemed somewhat suspicious as it started in two places about 30 yards apart and it came just five days after Mr. Kett had insured the buildings for £1600! At his subsequent trial for arson he was found guilty and was sentenced to twenty years penal servitude. The newspapers report of the case stated that "all thedriving gear and a greater proportion of the machinery of the steam engine was destroyed or irreparably damaged and so intense was the heat of the fire that the millstones in the steam mill crumbled away like sand".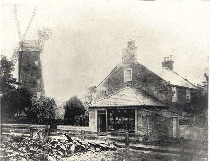 Sometime after this disastrous fire the complex must have been rebuilt with the Steam Mill being constructed of bricks and being made only two stories high.
Thomas Hurwood is listed as the miller in 1868-9, 1874 and 1879 and the 1871 census records him as a "Master Miller employing three men". He died in 1880 aged 63 and the 1881 census lists his widow, Charlotte, as "Miller and Baker". At some stage James Gunn took over the mill from Charlotte Hurwood and it is recorded that he was operating it when he went bankrupt in 1895.
The Tower Mill complex was then bought by Sir Alfred Gooch, Bart., of Benacre Hall, for £700 and it was then leased or sold to Benjamin Carter and Son. Unfortunately for them a "cyclone" struck Wrentham in 1897 and blew off the cap and sails from Tower Mill. The latter were blown across the road and killed a horse stabled in a field close by.
From that time on, Tower Mill was operated via a belt from the driving source of the Steam Mill.
After his father's death in 1900, Samuel Carter continued to operate the Tower Mill complex until 1916 when it was leased to Charles J. Rowling. In the June 1938 Wrentham Parish Magazine there is an advertisement as follows:- "C. J. Rowling - Wrentham, Roller Flour and Grist Mills and Steam Bakery wholesale and retail. Prompt daily deliveries." According to Ernest Fox, now living in Chelmsford, the actual Tower Mill was still operating during 1927/28 as he says that he saw Dewey Hupton stone dressing there. This was when he was working with his Uncle George for W. G. Lilley, the local builder, repairing the lead roof of the Tower.
Jean Chipperfield, who still lives in Wrentham, said that on the death of Mr. Rowling in 1938, R. J. Read purchased the Tower Mill complex from Mrs. Rowling and in November 1938 sold Tower Mill House to her father, Alfred. He renamed it The Firs and made it into a private house as part of it which fronted onto Southwold Road had been used as a shop selling flour, cakes, bread and the like. This business was transferred to another building near to the Tower and a Mrs. Clayton looked after it whilst her husband ran the Mill. In 1942 R.J. Read, whilst retaining the flour rights, sold the complex to C. D. Clarke Ltd. James Smedley, a partner in the firm, said the actual Tower Mill was then just a seven storey shell and the Steam Mill was driven by a Ruston & Hornsby oil engine situated in its own shed. In 1948 the complex was acquired by Tower Mills Ltd. owned by Mr. and Mrs. Smedley who, in 1953, replaced the Oil Engine with electric motors and also removed the three sets of stones and installed a hammer mill in their place. Two of the sets of stones were sold to a Doctor in Wangford and for many years they could be seen propped up outside his house. The other set of millstones was left on site and one of these stones can still be seen as part of the garden path not far from where the Tower Mill stood.
In 1962 Tower Mills Ltd. sold out to R & W Paul Ltd. of Ipswich, who operated the complex until about the end of 1964 when the 65ft. Tower, known locally as "Old Black Friend" was demolished in December 1964. (The 100ft. chimney associated with the beam engine had been pulled down around 1929). R & W Paul then sold off the cottages which were part of the Tower Mill complex and in 1977 Mike Bull bought from them the area on which the Tower had stood and established his Cedar Cycles business. The Bakers Shop building and adjoining Cartshed are still in existence and are now used as offices and storerooms and part of the base of the Tower can be seen in the vard of Cedar Cycles.
GUNN'S MILL
On the 1882 6 inch O.S. map its location is shown as on the west side of High Street at the rear of the last pair of cottages, dated 1762, going towards Lowestoft. On that map it is shown as a Corn Mill whilst the other three mills, Fletcher's, Carter's and Tower Mill are designated Windmills (Corn). This suggests that Gunn's mill may have been a Steam Mill. Doubtless it was operated by John Gunn and later his son James who in the 1881 census is listed at High Street as a Miller employing one man. In 1883 James Gunn is listed as a miller by "wind and steam" and it is presumed that he had by then taken over the Tower Mill. It seems likely that the High street mill became superfluous and was demolished as the 1903 revision of the O.S. map deletes the mill completely. Old inhabitants of Wrentham have insisted that Wrentham has had five mills (Windmills?) and several can remember three standing as late as 1931. Perhaps the fourth was Fletcher's Mill when it stood in Mill Lane before it was moved near to London Road and presumably the fifth was Gunn's Mill
Tower Mill taken before 1897, when the sails were blown off
Stone dressing was carried out at intervals either by the miller or by an itinerant specialist. The tools used consisted of an iron chisel (the bill) mounted in a wooden handle (the thrift) and a suitable length of wood to check the flatness across the face of the stone. Dressing stones was a skilled job and it was often said that a handshake from a stone dresser immediately disclosed his trade as the back of his hand carried embedded steel particles which had splintered off the bill. The author can vouch for this as his father, a miller by trade, who did his own dressing, had the back of his hands almost black.
In their heyday Windmills were often the centre point of village activities, a place where farmers, farmhands, mill workers and village customers could meet for trading and socialising and Wrentham was no different from many East Anglian villages in having its own windmills.
This photograph shows the wooden "Tat" which encloses the stones and the large hopper
from which grain is fed into the continuously shaken "Shoe" below it, from whence it runs
into the eye of the runnerstone.
Corn was fed from a hopper via a continuously shaken shoe into the eye of the runnerstone so that it passed between the two stones, both of which had been grooved, or dressed, in such a manner that the corn was efficiently ground. The resultant meal was then fed to the outer edge of the stones, whence it was swept around until it fell through a hole and came down a spout to a lower floor into a bin or a sack.
This bedstone is being "dressed" using the bill & thrift (bottom left) to produce deep
furrows and fine ribbing in between them. The opening (bottom centre) is for the flour to
fall through a spout leading to a sack. The runnerstone will be suspended on the iron
fixture at the centre of the bedstone.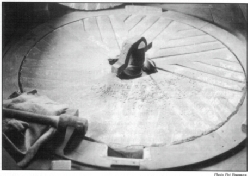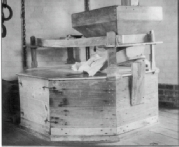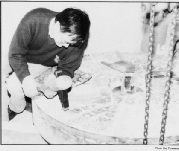 Dressing the runnerstone. A chain hoist has been used to lift it from its position above the bedstone. Peter Dolman, Secretary of the Suffolk Mills Group, is the "dresser".
One Stone-dressing pattern

The circular stones were of two types, Derbyshire Peak and French burr. These latter were harder than Derbyshire stones and were better for fine grinding of corn. However, due to the French burr formation it was difficult to get a complete stone of uniform quality so it was made up of sections cemented together and then bound with iron bands.
The stones, weighing up to three quarters of a tonne or more each, worked in pairs or sets, consisting of a lower fixed bedstone and a runnerstone immediately above it and both were enclosed in a wooden casing or 'vat'. A driving spindle passed upwards through the centre of the bedstone and engaged in an iron fixture which was mounted across the central opening, or eye, of the runnerstone. This could therefore be made to revolve by the action of the spindle, and its height above the bedstone, which was very small, could be carefully controlled to suit the type of grain being ground.
CARTER'S MILL This Mill, situated off the Southwold Road, behind the Five Bells Public House, was the next windmill to be built in Wrentham and although it was first recorded on a map of 1823 it probably dated from about 1800 -1810.
Benjamin Carter is listed as the Miller from 1858 to 1896 and in 1896 Benjamin Carter and Son are listed as "millers by wind and steam". This suggests that they were also working the Tower Mill with its adjacent Steam Mill.
Benjamin died in 1900 and his son Samuel gave up Carter's Mill to concentrate on Tower Mill. Arthur Benns is recorded as being the miller at Carter's Mill in 1900, 1904 and 1908 but not in 1912, which indicates that the mill ceased operating between those two latter dates. It gradually fell into decay and although looking reasonably intact in 1950 it was subsequently condemned and pulled down in 1955.
Carter's Mill was a very fine Post Mill with a tall round house containing two floors. This came about as a result of the death of a miller's daughter who was unfortunately hit by the sails which were 7ft wide and had a span of 65ft. The roundhouse was rebuilt to add another storey, thereby raising the entire mill by 8ft to give good ground clearance for the sails. Milling was carried out by two pairs of French stones.
FLETCHER'S MILL This is the first recorded Wrentham Windmill, shown on a 1736 map as being situated in Mill Lane, but sometime between 1736 and 1782 it was moved nearer to the main London Road. It was apparently named after John Fletcher who was listed in 1868 as the miller, and he remained there until his death in 1897. His widow carried on the business until at least 1908, according to Kelly's Directory, but in the 1912 edition there is no mention of the mill so presumably it had ceased operating by then. The mill collapsed at 5.45am on May 12th 1931 and although its remains could be seen for a number of years after that, it was eventually cleared away and nothing of it survives.
Fletcher's Mill was a fairly ordinary Post Mill with an open trestle on very low brick piers and it had four common sails. The grinding was carried out by two pairs of French stones and it also had a flour dresser.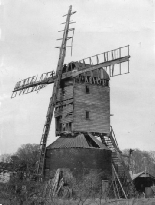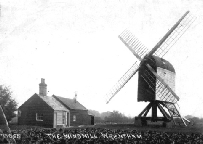 Fletcher's Mill - note the wooden stand base